I build custom performance interfaces and midi controllers using the Parallax Basic Stamp and Arduino platforms. Designed using environment sensors, such as ultrasonic, pressure, and infrared, the alternative input design allows the performer to step away from the traditional keyboard.
Bassoon Live Performance patch
A constantly evolving project, this Max/MSP patch is designed to process bassoon signal while playing a fixed media track. Effects incorporated are: delay, chorus and reson, with more on the way. Prerecorded audio is triggered via score following, and live performance is recorded for playback looping. Input from bassoon bocal pickup is used for pitch tracking. Mounted sensors send control information to Max via Arduino. Currently I have four sensors mounted on my bassoon, which are routed to effect parameters and mix levels: 2 soft potentiometers, 1 force sensitive sensor and 1 piezo film sensor. This is still in the prototype phase, as there is a learning curve with each sensor addition.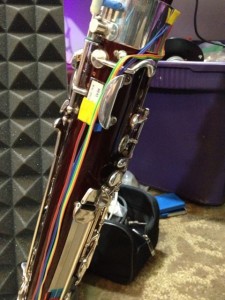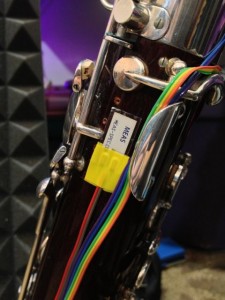 Patch Screen Shots:
Open Screen
Loop/Reson Module
Chorus Module
Delay Module
Reson/Trigger Modules
Check out a quick demo video of a controller box I recently built for Hans Tammen. He uses this box as a "spectral conductor", allowing him to conduct while performing as a member of the ensemble, without standing in front of the group. This box is still undergoing developments, as Hans continues to experiment with it in rehearsal and performances. 1/2013 Hans' Light Controller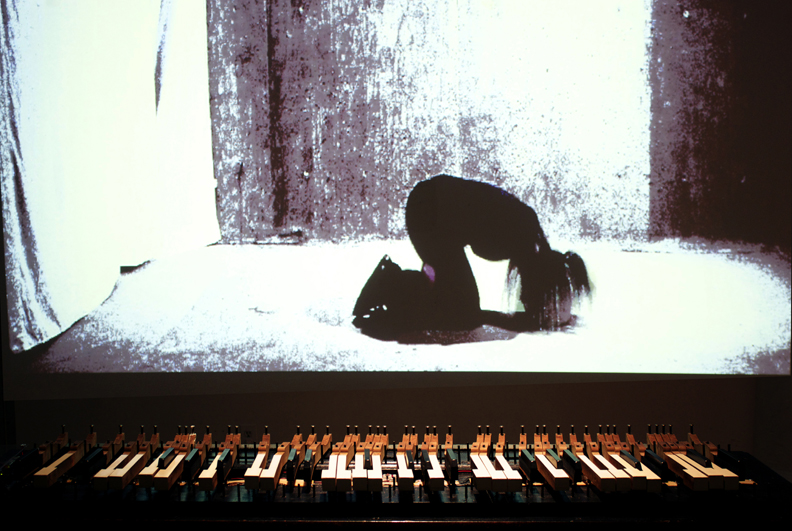 Piano keyboard converted into a midi controller, which is routed to Max/MSP to control video playback. Interactive installation. Developed with Tommy Martinez at Harvestworks for Andrea DeFelice. 10/2012
Feedback installation where audio signal is analyzed and mapped to DMX-controlled lights via Arduino. Technical assistance for artist Bernd Klug. 10/2012
In "5 basses", five double basses are amplified and feedbacked with each other. The strings and the bodies of the basses resonate with their ambient surroundings, thus creating an interactive drone in which the basses are controlled both by their acoustic vibrations and their environment. Seemingly simple acoustic/physical principles take on the complex role of the composer, creating forms and structures surprisingly similar to those we find in our everyday life. – Bernd Klug
Mad Max Noise Vest – Project Documentation from jimmy joe roche on Vimeo.
In 2012 Jimmy Joe Roche received a New Works Residency at Harvestworks in NYC. The result is the Mad Max Noise Vest. This video documents JJR's first time using the device. Concept:Jimmy Joe Roche. Hardware design and fabrication:Nicole Carroll. Max/MSP programming:Matthew Ostrowski. 6/2012
Eli Chalmer of Durians playing Lunchbox
video by Elizabeth Rossano
Lunchbox is a custom midi controller built for Eli Chalmer of Durians. Lunchbox uses the Parallax Basic Stamp and two Ping ultrasonic sensors. This instrument is played like a theremin, using the two ultrasonic sensors to read hand gestures, which are then converted to midi pitch, control change, velocity, and pitch bend data. 2009